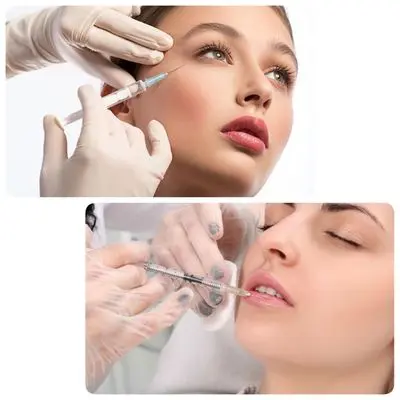 Neurotoxin
Botox and jeuveau
$12 per unit
Our experts provide an array of injection services that all reduce the appearance of fine lines and wrinkles to give your face a smoother, more youthful appearance. Now offering Jeuveau which has been shown to show results as early as the first week.
Temporal Mandibular Junction (TMJ) Pain
Dermal Fillers
Juvederm and Restylane
Juvederm Filler $700 Syringe
Lips
To enhance your natural shape, plump up a thin lip, or simply increase the fullness you desire. We can help you achieve the pout and lip shape you wish to have.
Facial Fillers
Cosmetic anti-aging treatment to soften the appearance of harsh wrinkles, plump the skin, prevent deepening of existing wrinkles, add volume to sagging skin, and achieve a more youthful appearance.
Eye hollows
The perfect solution to improve sunken in hollows under the eye that gives a tired appearance.
Cheek augmentation- Enhance your look with high cheekbones